SciCom Class of 2016
Bethany Augliere
B.S. (wildlife science) Virginia Tech
M.S. (marine biology) Florida Atlantic University

For years, I swam with dolphins. As a biologist with the Wild Dolphin Project, I became intimately familiar with a society of spotted dolphins in the Bahamas. I photographed them, documented their social behaviors, and spent so much time alongside them that their voices and personalities became just as distinct in my mind as those of my friends.

But the research was taxing and specialized. More importantly, it ended with the scientists. Each dolphin had a unique story, and I wanted to connect people with nature by illustrating the secret lives of these animals. My job morphed into multimedia manager, which combined everything I loved: writing, science, and photography.

As a science journalist equipped with words and images, I've found a way to dive more deeply into the natural world and those who study it.
School-year internships: Stanford News Service, Santa Cruz Sentinel, Nature
Summer internship: EARTH Magazine (Alexandria, VA)
Website: www.bethanyaugliere.com


Brendan Bane
B.S. (ecology and evolutionary biology) University of California, Santa Cruz

Majestic trees, beautiful birds, graceful whales—these inspire many childhood biology buffs. My muses were hairy tarantulas. On most days I entered their world by pressing my nose against terrarium glass or into the pages of natural history books. I later followed my passion to the cloud forests of Costa Rica, where I studied how tarantulas communicate their romantic intentions. (Basically, they twerk.)

Though I loved tromping through forests and spying on tarantulas in their roadside burrows, my greatest thrill did not come from the field or laboratory. Instead, I was happiest onstage, bringing my audience face to fang with spiders through visual storytelling. Now, through science reporting, I will immerse my readers in the lives of all flora and fauna, whether wondrous or weird.
School-year internships: Monterey Herald, UC Santa Cruz news office, KAZU Public Radio
Summer internship: American Geophysical Union (Washington D.C.)
Website: brendanbane.wordpress.com


Emily Benson
B.A. (behavioral neuroscience) Colgate University
M.S. (biology) University of Alaska Fairbanks 

The steady beat of waves lapping the lakeshore at dawn and the ethereal echo of loons wailing at dusk bracketed my childhood summer days in New York's Adirondack Mountains. Over time, my love of water evolved into a desire to study the creatures beneath the surface. My scientific endeavors took me to Alaska, where I examined algae under both sunny and snowy skies, and to Idaho, where I monitored threatened trout amid the occasional buzz of rattlesnakes.

Throughout those adventures, I told my friends tales of fieldwork salvaged from bears and floods, or beavers and cattle drives, first with my voice and later with my pen. I realized I wanted to share stories of scientists struggling to illuminate the world's natural rhythms. Lakes and loons, floods and trout—I'm ready to chronicle their chorus.
School-year internships: Santa Cruz Sentinel, San Jose Mercury News, Science
Summer internship: New Scientist (Boston)
Website: erbenson.com


Laurel Hamers
B.A. (biology) Williams College

In elementary school, a book on the lonely and impoverished lives of famous poets smashed my dream of someday becoming a writer. I didn't piece it back together until my senior year of college, when I realized that my appreciation of well-crafted sentences outstripped my aptitude for wrangling fruit flies or crunching data. Plus, the scope of scientific discovery was so great that I couldn't imagine confining myself to one small corner of it through a research career.

After graduation, my biology degree led me to a job writing press releases—for a physics organization. The words and symbols in the papers I read were in a new language, but I found it satisfying to manipulate them into something resembling English. I'm now hooked on sharing the elegance of science, without using iambic pentameter.
School-year internships: Santa Cruz Sentinel, Science, San Jose Mercury News
Summer-fall internship: Science News (Washington D.C.)
Website: laurelhamers.com


Natalie Jacewicz
B.A. (biology) Harvard College

The day I turned 11, my father roused seven friends and me at 6 a.m. to come see "a natural phenomenon" in the back yard. We tripped out of our sleeping bags and raced outdoors, expecting a solar eclipse or incoming meteor. Instead, we found two dung beetles rolling a clump of golden retriever scat. We went back to sleep.
 
Communication drives whether we celebrate a scientific discovery or wipe it off our shoes. Soon enough, nature's rich stories drew me in. The evolutionary tale of Anolis lizards seduced me into a biology degree. My policy interests led me to management consulting in Washington D.C., where I learned how drug companies prioritize research and how NGOs select projects.

Science and policy profoundly shape each other. I want to awaken readers to the intricacies of both.
School-year internships: Salinas Californian, San Jose Mercury News
Summer internship: National Public Radio (Washington D.C.)
Website: nataliejacewicz.com


Amy McDermott
B.S. (biology) University of California, Santa Cruz
M.A. (conservation biology) Columbia University

I've never been one for binaries. The world rarely operates in black and white. As a kid growing up in Southern California, I loved biology and the arts. They blurred together as I sketched our blue-gold agaves and the fence lizards skittering across our stucco garden walls. But in college, my diverse passions became a burden. I felt I had to specialize, to choose.

At 18, I chose marine ecology. Research took me from the velvety depths of the Monterey Trench to the sunlit shallows of Fiji. But without writing and art, I wasn't whole.

As I deciphered the relationships between Melanesian reef fishes in grad school, I started an online science magazine. Telling visually driven stories restored my sense of balance. Now I don't have to pick among my passions. I choose them all.
School-year internships: Monterey Herald, KAZU Public Radio
Summer internship: Science News (Washington D.C.)
Fall internship: Grist (Seattle)
Website: amygmcdermott.com


Erin E.A. Ross
B.A. (biology) Clark University

When I was in kindergarten, I loved to tell my mom what I would be when I grew up. On Mondays, I would be a wildlife photographer. Tuesdays, an ecologist. Wednesdays, a geologist. As good mothers do, mine explained that most people don't change careers daily. As good children do, I informed her that she was totally wrong. She just needed to wait and see.

College didn't make my career path clearer. I loved everything I did, from writing to studying mosquito ecology to exhibiting my photography. After graduation, I started doing science communication at the New England Aquarium and the Boston Museum of Science. As I discovered the joy of weaving stories for my audiences, I learned something else: When you share science for your career, you get to be something new every day.
School-year internships: Salinas Californian, Big Picture Science podcast, Inside Science News Service
Summer internship: National Institute of General Medical Sciences (Bethesda, MD)
Fall internship: National Public Radio (Washington D.C.)
Website: www.erineaross.com


Ramin Skibba
B.S. (physics), B.A. (philosophy) University of Notre Dame
Ph.D. (physics & astronomy) University of Pittsburgh

In grade school, my friends called me "Mr. Encyclopedia." I memorized hundreds of digits of pi, quoted Star Trek characters, and read as many books as I could carry on my back. Later, Carl Sagan's Cosmos, the dazzling night sky above the Colorado Rockies, and many excellent and eccentric teachers propelled me into astrophysics. My insatiable curiosity also spurred me into sociology, political science, and philosophy.

During 15 years as a research scientist I analyzed the structure of the universe, zoos of galaxies, disparate views on dark matter—and our place among these wonders.

My work in public outreach, teaching, citizen science, and policy advocacy steadily pulled me toward communicating science. My explorations and investigations continue, but the stories themselves draw me onward, just as powerfully as Sagan and my teachers did years ago.
School-year internships: Stanford School of Engineering, Monterey Herald, Inside Science News Service
Summer-fall internship: Nature (Washington D.C.)
Website: raminskibba.net


Alison F. Takemura
B.S. (biochemistry and cell biology) Rice University
Ph.D. (microbiology) Massachusetts Institute of Technology

During college, research was a black hole that sucked me in. In that unplumbed darkness, I grappled for footholds to reach my true passion: helping society cope with environmental uncertainty. I tinkered with microbial genomes in a quest for renewable energy, but the light overhead felt eons away. Grounded and more gratifying were my efforts in a group urging MIT to divest from the fossil-fuel economy.

I also loved the radio stories I caught on my walks to lab. The correspondents showed how scientific evidence inspires people: the state climatologist who finally acknowledged the footprints of climate change, the naturalist guide running for mayor in the Galapagos to protect its fragile ecology. With my own stories, I hope to unfurl what scientists know, and move readers' hearts and minds from apathy into action.
School-year internships: Inside Science News Service, Santa Cruz Sentinel, NASA Visualization Explorer
Summer internship: The Scientist (Boston)
Website: www.alisonftakemura.info


Lindzi Wessel
B.S. (psychology) University of California, Davis
M.S. (neuroscience) University of California, Davis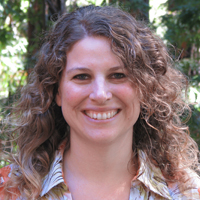 At the dinner table my family talks politics. A lot. I was more interested in how the brain forms, so I turned on the microscope instead of the news. (I also scoured the cognition literature in vain for strategies to tune out parental guilt.) But while studying how neurons grow using adult human stem cells, I started to explore the fraught history of stem cell research. I couldn't believe how much our political and legal systems influence scientific advancements—and how science policies arise with so little public input.

Once I began to investigate the societal relevance of research around me, I couldn't stop. Now during family visits, I'm talking about science and democracy. A lot. As a science writer, I hope to spark many more of these conversations, one dinner table at a time.
School-year internships: Stanford School of Medicine, Salinas Californian, San Jose Mercury News
Summer internship: STAT / Boston Globe
Website: lindziwessel.com